L'Ange-Gardien, by Raushan Mambekova
L'Oiseau des Cieux, by Raushan Mambekova
Huile sur carton – 40 cm x 49 cm – 1989
Le Chameau, by Raushan Mambekova
Private collection, Not to sale
L'Ange au Tapis Volant, by Raushan Mambekova
La Chauve-Souris, by Raushan Mambekova
Huile sur carton – 60,4 cm x 45,4 cm – 1990
Reflet, by Raushan Mambekova
Huile sur toile – 81 cm x 65 cm – 1991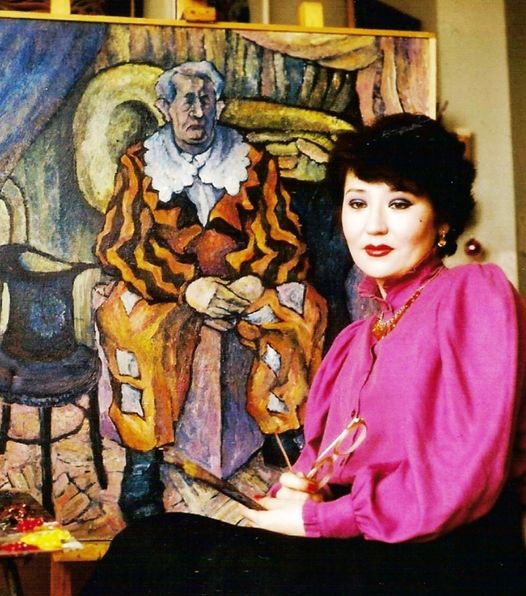 Raushan Mambekova & her painting « The Clown »
---
Raoushan MAMBEKOVA (November 1950 – October 2012) was a famous Kazakh artist who studied in Moscow at VGIK (Institut National de la Cinématographie de Moscow) and lived in Alma-Aty, in Kazakhstan.
She also travelled widely in Europe.
While working in the animated film sector, Raoushan Mambekova painted many artworks.
She wasn't inspired by the realistic Soviet painting school, but by the traditional Kazakh ornamentation with its warm colors and its geometrical graphism.
Each of her artworks plunges us into a mysterious universe and takes us to the antique Central Asian mythology.
She was also inspired by the litterature of other countries as France and Belgium.
Among her international exhibition, there were :
Solo show in Paris at the gallery « Le Centre culturel Anatolie »
1990 : Interbational exhibition « Les peintres pour les enfants de Tchérnobil » organized by the French painter in Clermont-Ferrand
2000 : Exhibition – international competition at Lézignan where she got a golden medal
2001 : Exhibition « Légendes des steppes » at the Embassy of Turkey in Almaty (Kazakhstan)
2002 : Exhibition « La terre des ancêtres » at the gallery « Aniz »
2004 : Exhibition in Rennes, ville jumélée d'Almaty.
2006 : Exhibition « L'univers magique de l'Orient et de l'Occident » at the French Embassy in Kazakhstan with graphic artworks inspired by the tale « L'abeille » d'Anatole France, « L'oiseau bleu » de M. Maeterlink and the Kazakh popular tale « Er-Tostik ».
Her paintings are in private art collections in France, Germany, Netherlands, Poland, Bulgaria, the United States and Turkey.
© Copyright 2021 – Galaxy Art – All right reserved