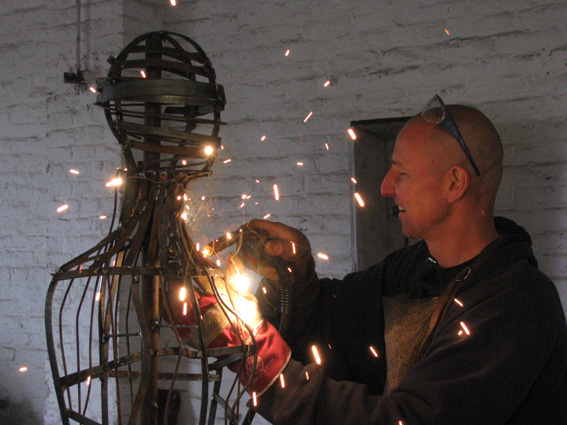 Les figurines de mon temps sont des éditions ouvertes : elles naissent d'innombrables petits lambeaux d'acier, les segments se forment, se condensent dans le processus de forgeage et symbolisent toutes les formes de dialogue. Tout est recueilli et transformé dans le futur, l'ensemble des approches et des sensations forment la figure. Mon travail artistique se caractérise par la recherche, la collecte et le chiffrement. Je positionne les trouvailles de ferraille dans de nouvelles entités. Les matériaux issus du processus de travail, tels que la cendre, le charbon ou le sable, se complètent les uns les autres sous forme de corps et d'assemblages picturaux.
Meine Zeitstabfiguren entstehen als offene Edition: sie erwachsen aus unzähligen, kleinen Stahlfetzen, die Segmente formen sich, verdichten sich im Schmiedeprozess und stehen sinnbildlich für alle Dialogformen. Alles wird in der Zukunft gesammelt und transformiert, die Gesamtheit aus Annäherungen und Empfindungen bilden die Figur. Meine künstlerische Arbeit ist geprägt vom Auffinden, Zusammentragen und Chiffrieren. Ich positioniere die Schrottfunde in neue Wesenheiten. Material aus dem Arbeitsprozess wie Asche, Kohle oder Sand komplementieren sich Bildkörper und Assemblagen.
My time stick figures are created as open editions: they grow out of innumerable, small steel shreds, the segments form, condense in the forging process and stand symbolically for all Forms of dialogue. Everything is collected and transformed in the future, the totality of approaches and sensations form the figure. My artistic work is characterized by finding, collating and ciphering. I position the scrap finds in new entities. Material from the working process such as ashes, coal or sand complement pictorial bodies and assemblages.
© Copyright 2020 – Galaxy Art – All right reserved